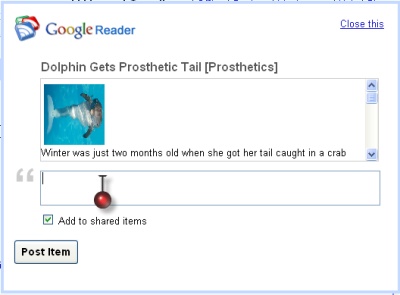 It looks as if Google Reader users will have another reason to use the feed reader over its rivals.
Google Reader has launched a feature that allows users to not only share their favorite items with friends, but also attach a mini note to the item as well.
(Google Reader Blog) If you are like me, you might want to share something in Reader, but think your friends might not "get" why you are sharing it. Use the "Share with note" button on the item toolbar to create a copy of that item with your own note attached to it.
While this feature will definitely appeal to Google fan boys/girls/bloggers of all types, what is interesting is that Google Reader users will also be able to share notes without the need to share an item at all–which may be a signal that Google Reader is heading directly into FriendFeed's territory.
[Read more…]