Google Analytics for Bloggers Who Hate Numbers
Analytics: an exercise in number-crunching, or a pain in the neck? It depends on how familiar you are with the term and how much value you place in measuring website traffic. Analytics is the catch-all term for collecting, reporting, measuring, and analyzing data off the Internet in order to understand and optimize the information for the benefit of e-commerce.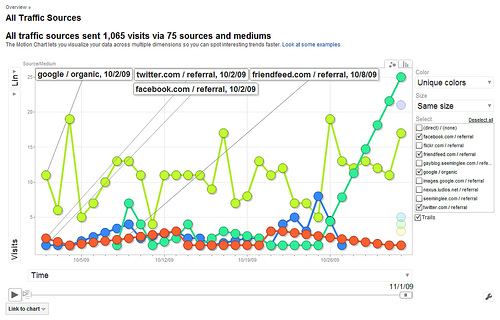 There are plug-ins out there that measure traffic and give web masters an idea of how much users are being driven to a site, therefore giving a good idea on how effective a marketing strategy is, something that web marketers need to know. However, this sort of information isn't as important for a blogger who simply wants to know how many people are visiting their site. That sort of thing still may be nice to know, but it's not as critical.
Installing an analytics plug-in on your site is very easy. Simply copy and paste the script into each web page's code, at least the pages you want actually tracked. Unfortunately, messing with your pages and working with code is pretty much unavoidable if you want analytics.
Check out this selection of plug-ins and apps, and see which one best suits your wants and needs.
StatCounter
StatCounter is free, dependable, and functions as a hit counter and visitor tracker, among other things. StatCounter works on many platforms, including not only the well-known, heavily-used ones like Blogger and WordPress, but also websites like Tumblr, Xanga, and DeviantArt.
MapMyUser
Another free plug-in, MapMyUser's main draw is that it focuses on current, real-time analytics statistics, not just information on past performance. This plug-in gives you visitor locations on Google Map, including what city and country they're from, the source of the visit (such as Yahoo, Bing, and Google), browser type, IP addresses, information about operating system used, and what places on your site are getting visits.
Google Analytics
Google Analytics is a free (the Basic version is, anyway) service that measures web traffic, providing you with statistics on content performance, conversions and sales. The impressive package gives you Mobile, Social, and Advertising analytics, enabling you to keep track of statistics for mobile devices, social media sharing success, and advertising campaign effectiveness.
A word of warning: Google Analytics isn't for everyone. If all you're looking for is information on who's visiting your blog, you should go for something a little less involved. But if e-commerce is your bread and butter, this is a terrific package.
See Also
Google Analytics Evolution
This is another free web app that lets you quickly and easily acquire, visualize, compare, and export Analytics data from multiple Google Analytics profiles and multiple segments for any time period. This is another good one for e-commerce users, as it lets you quickly gather visits, transactions, bounce rates, ecommerce conversion rate, and much more.
Analytics and numbers need not be a source of frustration and with the plug-ins at your disposal, a lot of the guesswork and frustration can be ameliorated. But the fact remains that if your website functions as an e-commerce tool, then you need to know for sure who visits your site, where they come from, and what, if anything, they purchase. Analytics gives you the data you need to make informed decisions regarding online business strategy.
Photo credit: seeminglee
John Terra has been writing freelance since 1985, and has covered topics ranging from computer games to online reputation management.