Video Marketing Checklist: What Every Marketer Should Know
Videos are often the first type of content most internet users come up to when trying to learn new information. That's why content about specific guidelines is most popular when it's presented as videos on platforms like YouTube. People would just browse something directly with the how-to phrase, along with the keyword they wish to learn that day.
Compared to years ago, when blog posts were still at their peak, you'd notice that good marketing ideas are now done with the help of videos. Some of the best growth marketing agencies are now using video pretty consistently in their campaigns for organic SEO, PR, and thought leadership. Since it's pretty easy to create one, marketers have taken advantage of video marketing to help them improve their campaigns better.
People can learn a lot from watching videos, which is why many of them find video content helpful these days. This makes sense because a study had previously predicted that videos will make up over 82% of the internet traffic this year. If you're a marketer trying to promote new products rather easily, make sure to use video marketing in your campaign efforts.
6 Video Marketing Checklist You Shouldn't Miss Out
Now, if you want to create marketing videos, it's essential to understand what should have been done in the first place. Remember that preparation is key when you want to start a campaign in any type of media. The more thorough your preparation process is, the better results you will get from it. Here is the quick video marketing checklist to help you prepare a winning video campaign for your business.
1. Scripting
Your script should describe all the main points that you want to talk about in the videos. Usually, you need to write a conversational copy.
To make things easier for yourself, create a list made up of 3 to 4 bullet points for every how-to topic that you would like to make a video about. Your script should always cover all these topics and include whatever details necessary so viewers can understand properly.
2. Video Outline
After creating a rough draft of your scripting, next is making the outline for your content. Now, make a list of all the items you want to include and arrange them in a logical order. Make sure to watch your script beforehand, following up with the video outline properly.
3. Recording
After preparing your video out and the scripting step, it's time to create an actual recording. Use whatever equipment is necessary for recordings, such as webcams, microphones, or even smartphones with good cameras. 
Also, keep in mind that lightning will highly affect your recorded videos, so try to find the best spot possible with adequate lighting available for you. After everything is set up and ready for recording, start doing some sessions related to your topic until you get enough footage for it. If at any time during the process you feel like deleting some of the video clips, you are more than free to do so.
4. Post-production
Since there are so many videos nowadays that need to be edited on a daily basis, this process is just as important as the film itself. Editing is part of your preparation phase because it's where you will have the chance to fix any errors done on the previous steps if necessary. You can also add some effects or introduce title slides for your project here.
5. Distribution
After finishing everything above, now is time to distribute your work out there. Some marketers often choose platforms like YouTube first before anything else. But, others still use their own website or blog if they have one already available since most internet users go there instead. It's important to know that every video platform is different, so it would be wise to try all of them out one by one.
6. Monitoring
Lastly, monitor your video marketing campaigns on social media and other similar websites. After all, these are the places where your target market is present, so it's important to know how they feel about what you made for them. You can use web analytics tools like Google Analytics or even Facebook Insights for this step if necessary.
Wrapping Up
After creating a video marketing checklist for yourself, all that's left to do now is to try it out. Try following through with your preparation process until the end, then check your results afterward. If everything went nicely, continue doing what you are doing until you get better at it.
If not, make some changes on your own and start over again. There is nothing wrong with doing some trial and error steps, so don't be afraid to do so. Just remember that there are always improvements for everything in the world, so keep that in mind on your own.
Copy and paste this code for a free infographic.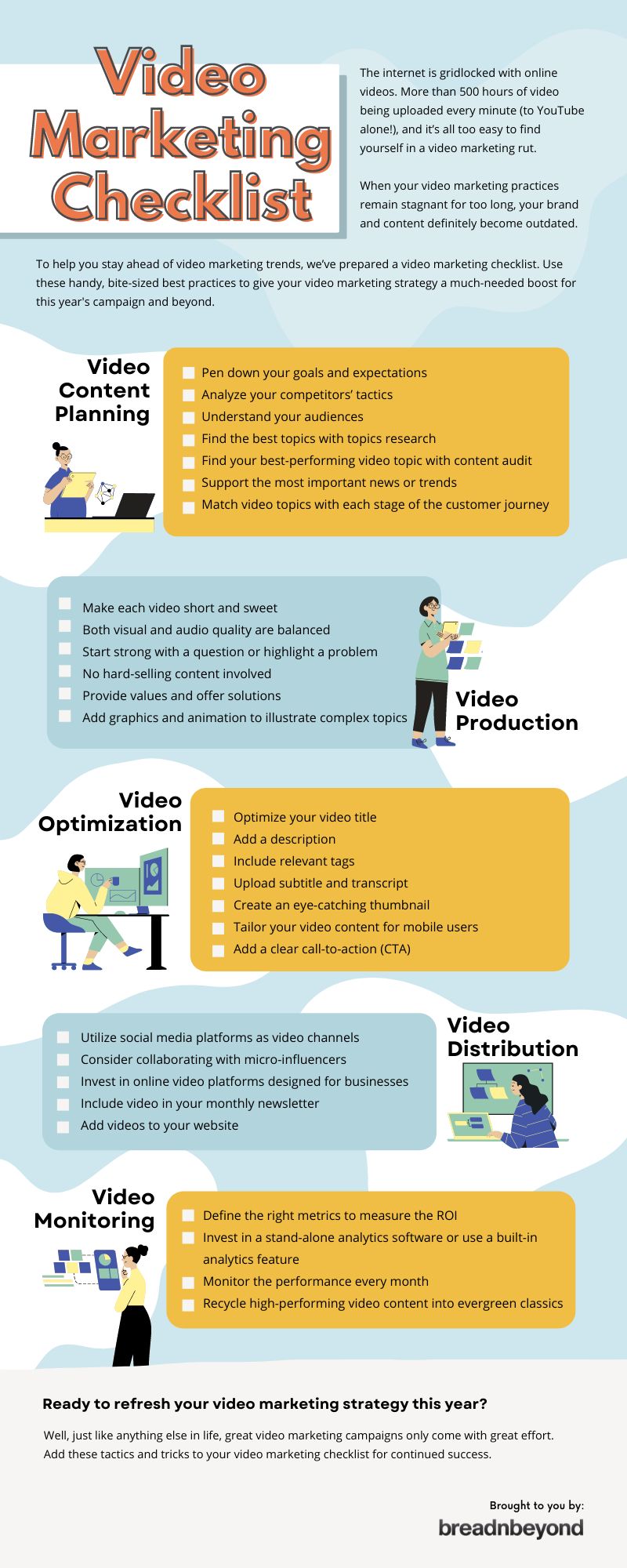 Author
Andre Oentoro is the founder of Breadnbeyond, an award-winning explainer video company. He helps businesses increase conversion rates, close more sales, and get positive ROI from explainer videos (in that order). 
Twitter: @breadnbeyond
Email: [email protected]