How to Cope With the Changes in SEO
To say that search engine optimization has gone through changes is an understatement.
What was once a shady practice in promoting your online business is now a full-fledged marketing framework that delivers value to your audience.
Below is an infographic from QuickSprout detailing the evolution of SEO over the years.
Here are three takeaways from the information above:
Content Marketing
Content will be useless if no one is viewing it. But when used alongside SEO and other marketing channels, it becomes king.
The fact that companies have integrated content marketing into their strategy speaks volumes on the power of content.
Instead of sharing ideas and information, a single blog post can now increase your sales, build your brand, and engage with your audience, among other benefits. Also, you need to plan meticulously to reap the benefits of this marketing strategy.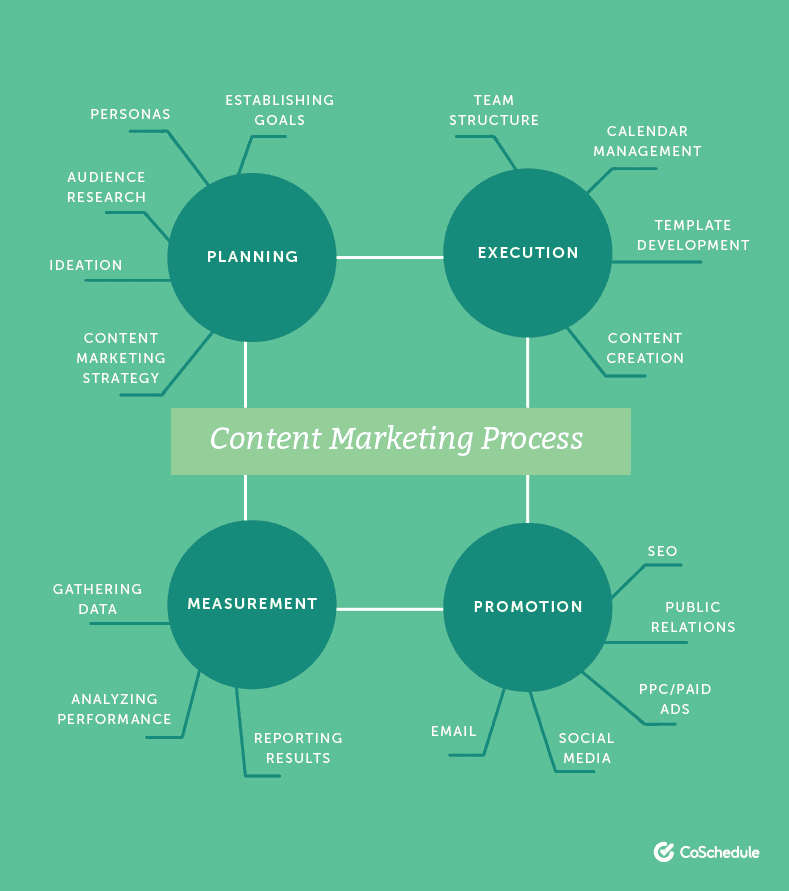 Source: CoSchedule
Of course, it doesn't stop with just one stop. Writing and publishing high-quality blog posts optimized for their target keyword should help establish the foundation of your SEO-friendly site.
The real power of content marketing, however, lies in how you expand your traffic sources.
As seen in the image above, SEO is just one of the many ways that your website can gain visitors.
So, even if your quality content isn't ranking on search results, you can still gain traffic to your website from other channels like social media from your content promotion campaign.
Or if you send out emails to your subscribers, you can generate traffic and conversions from there.
Invest in Quality
Barrie Smith's case study about cheap link building is a cautionary tale that proves one thing: less will always be less.
As the saying goes, if it's too good to be true, it probably isn't.
SEO has evolved to become more than just a game of numbers. In today's SEO, quality counts.
In the case of your posts, you need to ensure the following for each one:
Has a title tag and meta description
All its images have alt text
There's a table of contents to provide visitors with an excellent user experience
Each one has featured snippets to help provide a direct answer to a question, which Google loves
Has internal links to articles relevant to the topic
Some of these things aren't specific to SEO. But since you want to improve your website
Also, it's important to analyze the on-page SEO factors of your websites.
By optimizing your sites and blogs from the beginning, it'll be much easier for you to rank higher on search results.
For starters, you can run try Netpeak Spider to perform a technical SEO audit.
The tool will crawl your site and search for issues and problems such as page speed, appearance on mobile devices, and broken links, to name a few.
And by correcting these errors, you can help enhance your site's SEO performance sooner than later.
You can audit your site even if you don't have a tool at your disposal, you can simply follow the checklist below and manually locate them on your site for potential issues.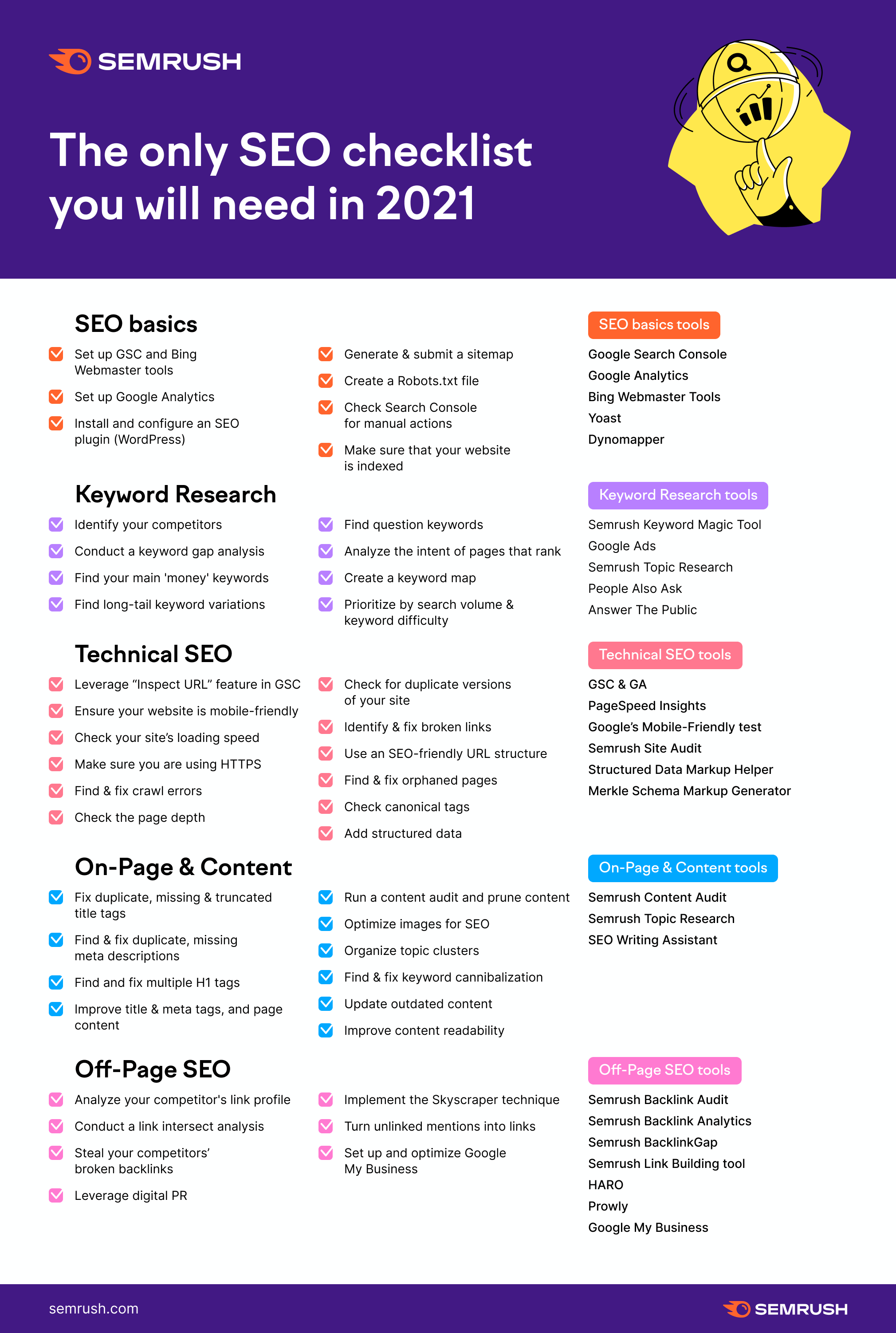 Source: SEMrush
Stop Chasing the Tail of Search Engines
The mistake most people make with SEO is gamification.
Instead of focusing on developing a comprehensive strategy, most go for churn-and-burn methods of SEO. These include using tactics that may yield quick results but are against Google policies and guidelines.
These trends work in the meantime. But as with all trends, they go out of vogue.
Keyword stuffing? Flagged.
Article marketing? Dead.
Those who used these tactics found themselves removed from SERPs for their target keywords. They are left scrambling for new tactics to use and move up the rankings again.
This unsustainable way of SEO is a waste of your time and effort.
Instead of using these flimsy techniques, why don't you go for something of substance?
Try out the Skyscraper Technique to find and use great content and make an even greater one. Find backlinks to the great content you used to produce greater content. Reach out to site owners and tell them to link to your content instead.
Source: Hubspot
Another smart way to build backlinks is the broken link building. You reach out to site owners with resource pages related to your topic. You tell them the links on the page that don't work anymore and ask them to include your website on the list.
These strategies also line up with your content marketing and relationship building, which play important roles in SEO.
Doing these tactics will take you time and effort to accomplish. But unlike the techniques that have been flagged by search engines, the strategies above give value to your target audience and guarantee you a more sustainable SEO campaign.
Let Data from Google Search Console Lead the Way
It's difficult nowadays to believe people saying what works and what doesn't in SEO.
Keep in mind that what applies to them may not apply to your website or blog for a variety of reasons. Results and findings hinge on the industry, infrastructure, and tools used by the tester. For example, the SEO practices used in a law firm marketing practice are different from a beauty salon website.
Therefore, to improve your search traffic, the only thing you must rely on is the data at your disposal.
For example, Google Search Console and Google Analytics could show that your site is improving its organic traffic even if you're not following conventional SEO wisdom.
In this case, you should stick with your guns and keep doing what you're doing as long as you're not delving into black-hat SEO territory.
Conclusion
SEO is constantly evolving if you wish to improve your SEO ranking. Just like the constant changes in life, you need to change your approach and adapt along with the developments in this field to stay competitive in your market.
At the same time, it's possible to see your website traffic sustain its traffic even after multiple algorithm changes. That means you're doing something right in the eyes of Google and you need to stay at it.
What's truly important in SEO where people are at the mercy of the almighty algorithm is simple:
Always provide value.
If you consistently churn out amazing content that your audience loves and have a site that's easy for Google to crawl and find, you simply can't lose.
More on search engine optimization:
First published in January 2015; updated September 2021